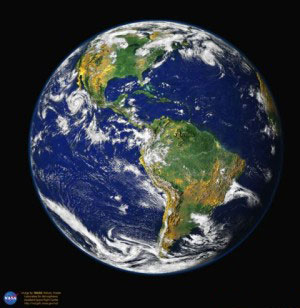 Terra* viewed from space. Photo courtesy of NASA.


We should not say 'I am an Athenian' or 'I am a Roman' but 'I am a Citizen of the Universe'.

Marcus Aurelius

I was born at the Dawn of the Space Age, on a planet called Terra* that orbits around a star called Sol**, is located in the Orion arm of the Milky Way galaxy. It's a planet where the dominant color is blue, given by the blue oceans that cover more than half of the planet's surface and by a small blue atmospheric haze. Add to this some irregular patches of white clouds and land masses colored in brown, green, white... well it is a magnificent place, made by nature and not by us.

Somewhere there, on a land mass called Europe, you can find a place called Bucharest which is the capital city of Romania. It is a very special place for me, because there I first saw the light of our local star Sol, the place where I took the first steps in life, the place of my first day in school, the first love... and the first many other things.

Most of my education - primary school, high school, university - was done in Romania. After university graduation I worked as a mechanical engineer until the fall of the communism when I left Romania to see other parts of the world.

For two and a half years I lived in Switzerland and after that I migrated to Australia where I am currently living. At present I am working for some financial institutions as a computer programmer.

I have two grown up sons, a young daughter and I am happily married and lucky to have a wife which is very supportive and understanding.

I have many interests, like: astronomy, literature, physics, traveling, photography, computers, web design, programming, minerals, philosophy, politics, history... I might not be able to understand in depth a subject, but I am happy if I can have just a basic understanding. I hate walking around, seeing things or witnessing a phenomenon and to have no clue about why and how that happen.

Having so many likes, you might think that I have a short list of dislikes. That's not true. I dislike the continuous conflicts between the countries, the threat of terrorism, the continuous destruction of the planet for the sake of economical arguments, the non culture that is starting to replace the traditional culture, the so call liberties that are impacting negative on the society such as the right to carry arms, to produce stupid movies and computer games that incite to violence and these are just to name a few.

There are many other things to add here, but why not browse my web site to find what I think, what I like or dislike, what hobbies I have, what I stand for and what I am doing... See the site map.

Thanks for your time and interest,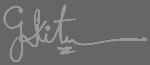 where:
* Terra = the Latin name for the planet Earth. It is the standard used to mark Earth on language-independent starmaps.(Wikipedia)

** Sol = the Latin name for Sun. It is the standard used to mark Sun on language-independent starmaps.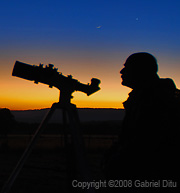 Admiring the universe